SEE THE HON JULIE BISHOP FIRST AT THE SUMMIT!

This is the first chance that financial services professionals will be able to hear from The Hon Julie Bishop since her departure from politics. We are very pleased that Ms Bishop will be joining us as a keynote speaker on Day One.

We will also be welcoming the newly appointed Assistant Minister for Superannuation, Financial Services and Financial Technology, Senator Jane Hume, on Day 1.

And Labor's Stephen Jones MP, the Shadow Assistant Treasurer and Shadow Minister for Financial Services will be speaking on Day 2.

For the full conference program please click here.



About the event
For the best views of the financial services industry, take your place at The Summit. For two days in August, the FSC provides a unique vantage point for the entire financial services industry. Away from the distractions of our day-to-day schedules, The Summit is our opportunity to gather and discuss the high-level policy issues that are shaping our industry.

Joining you at The Summit this year will be your peers, colleagues and industry leaders. With talks and presentations from Ministers, inspirational thought leaders, disruptive influencers, and public policy experts, you'll gain unique perspective on the ideas, opinions and policies that are leading the debate. Through the networking and break-out sessions, you can share your point of view with fellow attendees.

As in previous years, The Summit 2019 will be focusing on the key challenges facing the financial services industry. The conference plenary sessions cover the high-level issues facing wealth management, with concurrent sessions delving deeper into the details of advice, superannuation, investment, tax and life insurance.

Avoid disappointment - register today!
DATE

27 - 28 August 2019

TIME

8:30am - 5:00pm

VENUE

Sheraton Grand Sydney Hyde Park, 161 Elizabeth Street, Sydney

COST

Group Rate (Minimum of 4 registrations)
$2,350 per person

FSC Member Rate
$2,600 per person

Non-Member Rate
$3,000 per person

REGISTER HERE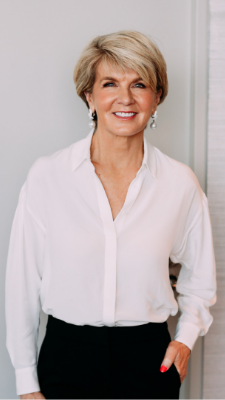 ABOUT THE HON JULIE BISHOP

Ms Bishop served as Australia's Minister for Foreign Affairs from 2013 until her resignation in 2018. She was the first female to hold the role as well as the first female Deputy Leader of the Liberal Party, serving for 11 years.

As Foreign Minister, Ms Bishop was responsible for strengthening Australia's key strategic and economic relationships with Ministerial responsibility for more than 5,000 departmental staff, 110 overseas missions as well as government agencies Australian Secret Intelligence Service and Australian Centre for International Agriculture Research.

In 2014, she led the international response to the downing of Malaysian Airlines flight MH17 over Ukraine, and was awarded the Commander of the Order of Merit of the Netherlands Ministry of Foreign Affairs.

Under her leadership, the 2017 Foreign Policy White Paper was developed, providing a comprehensive policy framework for the next decade; and the New Colombo Plan was established, enabling Australian undergraduates to live, study and work in the Indo-Pacific region. Within five years more than 40,000 students have participated in the Plan.

In a political career spanning 20 years, Julie, as a member of the Government Executive, also served as Minister for Education, Science and Training, Women's Issues and Ageing. Prior to entering politics, Ms Bishop was Managing Partner of the law firm Clayton Utz in Perth.

The Hon Julie Bishop appears by arrangement with Claxton Speakers International.
RENOWNED CEOS

Geoff Lloyd
CEO
MLC Wealth

David Bryant
CEO, Australian Unity, Wealth and CIO Australian Unity Group

Ben Walsh
CEO and Pacific Zone Leader
Mercer Australia

Alex Wade
CEO, Australian Wealth Management
AMP
SUPERANNUATION EXPERTS

Melinda Howes
GM, Superannuation
BT Financial Group

Andrew Fairley
Chair
Equip Super

Adam Gee
Head of Strategy
GrowSuper

Mark Pankhurst
Head of Superannuation
ANZ Australia Wealth
EXPERIENCED INNOVATORS

Joel Robbie
Co-Founder and CEO
NOD

Andrew Varlamos
CEO
OpenInvest

Mark Hoven
CEO, Wealth
Adviser Ratings
OUR REGULATORS

James Shipton
Chair
ASIC

Geoff Summerhayes
Executive Board Member
APRA

Helen Rowell
Deputy Chair
APRA
LEGAL LEADERS

Michael Vrisakis
Partner
Herbert Smith Freehills

Daniel Knight
Partner
K&L Gates




INVESTMENTS SPECIALISTS

Kate Howitt
Portfolio Manager
Fidelity International

Richard Brandweiner
CEO Australia
Pendal Group

Mark Pankhurst
Head of Superannuation Pensions and Investments
ANZ Wealth

RETIREMENT EXPERTS

Jeremy Cooper
Chairman, Retirement
Challenger Limited

Andrew Boal
CEO
Rice Warner

Robert Jeremenko
Division Head, Retirement Income Policy Division
Department of the Treasury

Amara Haqqani
Director - Strategy & Solutions, Milliman

MARKETING GURUS

Stephanie Tully
EM Group Brand and Marketing/CMO
Qantas

Kylie Smith
Financial Services Marketing & Communications Leader



WHAT TO EXPECT
Join Us at the FSC SUMMIT 2019
Register today
The FSC welcomes members and non-members to a wide range of events each year, including policy briefings on the latest legislative and regulatory issues, plus two major annual affairs – the Life Insurance Conference and Summit. The FSC endeavours to host events that unpack the most pressing topics, sector challenges and broader opportunities with prominent political figures, leaders and industry experts leading the discussions.
DATE

27 - 28 August 2019

TIME

8:30am - 5:00pm

VENUE

Sheraton Grand Sydney Hyde Park, 161 Elizabeth Street, Sydney

COST

Group Rate (Minimum of 4 registrations)
$2,350 per person

FSC Member Rate
$2,600 per person

Non-Member Rate
$3,000 per person

REGISTER HERE