The FSC has extended its cause alliance with the First Nations Foundation for an additional two years until 30 June 2018. To read about our partner ...First Nations Foundation.
On 28 May 2015 in Canberra the FSC launched an exciting new Standard: Cultural Capability in Native Title Services. We are very proud of this initiative - which has strong support from a number of important stakeholders.
Please click here for more information, to read our media statement and the Standard.
WHERE WE BEGAN
To read the media release dated 31 July 2013 click here.
To read more about First Nations Foundation - and how you can help them achieve their goals - click here.
On 31 July 2013 First Nations Foundation and the Financial Services Council entered into a three-year community alliance agreement. We are very excited by the opportunities our new alliance will bring to both First Nations Foundation and the FSC and its Members.
About First Nations Foundation
First Nations Foundation was established in 2006 with the vision of enabling First Australians to make informed decisions about their financial wellbeing, in turn securing a sound economic future for themselves and their communities.
The development of a sound economic base in the Indigenous community is paramount to the future of Indigenous people. In order to be in a position to protect the things that we value and to sustain our culture and sense of identity we need to build the capacity to be equal players in the mainstream economy–and we can't do that if we are living on welfare.

A key part of our work is about Indigenous Australians visioning their futures in line with Australian society. We need to identify what we want our future to look like, in order to feel safe, to feel connected and to have a sense of ownership and control over our destiny.
Knowledge and confidence in using money, the financial system and its products are keys to managing a tight budget, planning a work career, running a business or building long term assets such as a houses and superannuation.
The Measuring Financial Exclusion In Australia Report found that 43.1% of the Indigenous Australians surveyed were either severely or fully excluded, and are over-represented compared to the national average of 17.2%.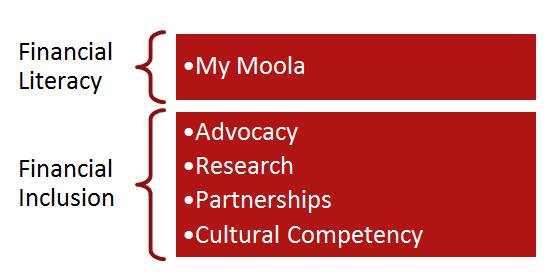 'Closing the gap' in critical areas of financial and economic participation is also a key to improved health, employment and education outcomes, enabling Indigenous Australians to live full and productive lives – living, learning and earning.
Providing national leadership for greater financial inclusion of First Australians through financial education, research and advocacy, and greater cultural competence of the financial sector
First Nation Foundation is improvingfinancial literacyamongst Indigenous Australian through our flagship financial literacy program My Moola. The My Moola program has been designed and facilitated by Indigenous Australians, for Indigenous Australians.
Providing financial education that goes beyond the dissemination of information and unlocks how Indigenous Australians can engage with mainstream society from a position of confidence, both socially and economically, while maintaining and strengthening their Indigenous identity. The promotion of a cultural and social rethinking of the use of money to achieve personal, family and community goals.
Want more information?
To download a printable version of the text above (and more) click here.
To visit the First Nations Foundation website click here. There's great video content about the work FNF does and the people who have stepped up for training - real stories to bring our new partnership to life for you.
How can you support our new community alliance partners?
Corporate and individual pledges
We are happy to facilitate the collection of corporate and personal pledges. If you would like to contribute please fill out a pledge form and send it to This email address is being protected from spambots. You need JavaScript enabled to view it. to be passed to First Nations Foundation.
 Provide support in the following areas
First Nations Foundation is a young organisation - only six years old - and is looking for support from the financial services sector to build content and provide pro bono services.
If you would like to be involved please click here to read the First Nations "wish list" and contact them directly. Please let Sharon Sherry (This email address is being protected from spambots. You need JavaScript enabled to view it.) know if you work with them so we can measure the value of the partnership over time.
A new co-branded logo
On 10 February 2014 FSC and FNF introduced a co-branded logo which will appear on our joint news and collateral going forward.